Letter Of Commendation and Sincere Gratitude To K9 Partners For Patriots
In the early part of January 2016, Lois M. Mueller, PH.D, Clinical Psychologist, VA Outpatient Clinic, New Port Richey, FL 34654, informed me of K9 Partners For Patriots (K9PFP), 16230 Aviation Loop Drive (now located at 15322 Aviation Loop Drive), Brooksville, FL 34604. Dr. Mueller related she believed this program would benefit me.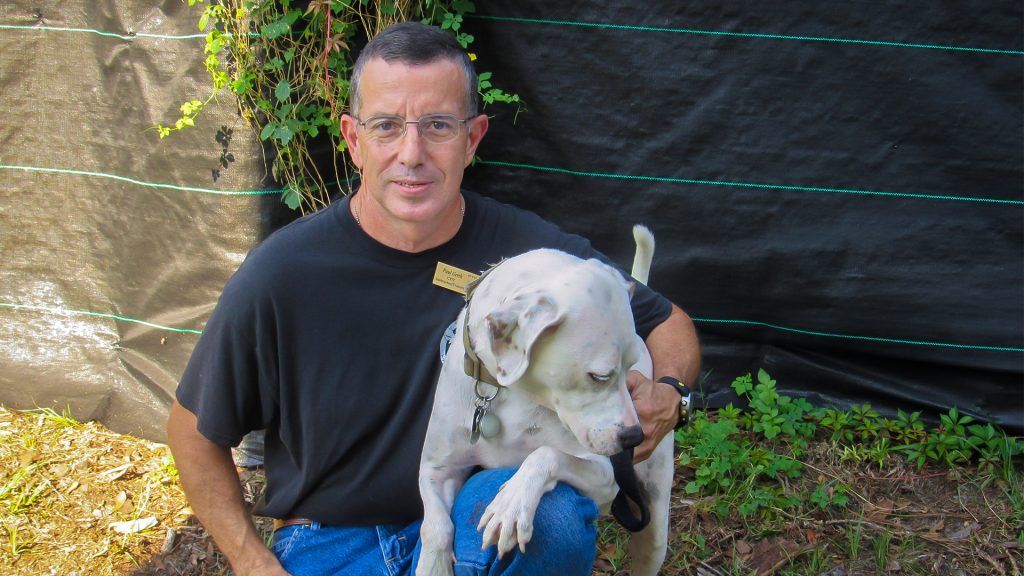 On January 18, 2016, I completed the New Service Dog Application with K9PFP, and within 24 hours I was contacted by Mr. Ron Flaville, K9PFP Military Liaison, Multi-Service Veteran, and Certified Dog Trainer. An in person interview was arranged and conducted shortly afterwards by Mr. Flaville and Ms. Mary Peter, K9PFP Founder, CEO, and Certified Master Dog Trainer.
A few weeks before this interview I had leg surgery and I was not supposed to be out walking on a constant basis; .e.g., "non-weight bearing." However, I was not going to miss such an opportunity (especially since I was in the "running" twice for a Service Dog with the VA; one time the VA "lost the funding" for a service dog and the second time, the "Kennels did not pass an inspection and the program was discontinued"). As a child I was raised with dogs and due to the various jobs I had in the Army I was able to see how K9s performed their respective duties; e.g., patrol, security as well as bomb and drug detection. Something told me this was a life changing decision and I needed to go – I'm glad I did!
While waiting to be informed about my future "Battle Buddy (Service Dog)," Mr. Flaville and Ms. Peter invited me back anytime to visit the facility- to observe training, the comradeship. Further, I was waiting to see about this "catch" in this so called free, no charge, Veteran's K9 program.
Each time I visited K9PFP I was taken aback more and more … it was indeed a family atmosphere I had been seeking. Everyone accepted you for who you were, no judgements were made, and I was "adopted" by several personnel who recognized my uncertainties, and in a sense, my insecurities (being out in "public view," opening myself up to who knows what, and after over 20 years of active duty in the U.S. Army, I was putting my faith in people I did not know).
I was contacted and was asked to return on February 2, 2016, because new dogs were being brought in to K9PFP and to see if the perspective future service dogs "met the cut."
Ms. Josette DeOlivera, a Veterinarian Assistant, brought in two dogs to K9PFP. Ms. DeOlivera, and her family members, rescued the dogs from a wooded area in Georgia. Hans was one of the dogs that were brought in for testing and to see if a "match" could be made. Testing went well and to this date I am still trying to figure out….who selected who – did Hans pick me or did I pick Hans?
Hans could not have entered my life at a better time! To this date, my health has continued to fluctuate (some very acute diagnosis and treatments). Further, after long term counseling and trying times, my marriage ended in 2017.
There have only been a "handful" of times I have missed not being at K9PFP on a weekly basis. I have been trusted in doing various tasks; e.g., cleaning, maintenance, and even emptying the "poopy buckets (My motto: The K9s #2 is my #1 ©)." In my belief, the more we volunteer, the more the mission statement of K9PFP becomes a reality!
Battling Ghosts Together!
As noted by the above dates, it has been two (2) years since this process began. I will ALWAYS be: thankful for K9PFP and all the positivity which has resulted from this "match." Hans and I graduated from the three (3) levels of K9 Service Dog Training that were offered (Basic, Intermediate and Advance). It was not always easy; it clearly takes dedication, trust, devotion, as well as love. As many know, Hans also has PTSD and we assist each other in a myriad of ways; in my opinion, these unfortunate circumstances make us a stronger unit. For some it may be difficult to understand this … as much as I love Hans, I know Hans is not my pet. Without hesitation, I can state Hans and I have a bond, a trust, we are a team! Together we "battle various ghosts!" I am proud of the accomplishments Hans and I both have made!
Further, I was given the opportunity to attend a program which enabled me to become a Certified Dog Trainer (CDT). I jumped on this chance and have never looked back!
I have been entrusted to be a member of K9PFP, to represent this fine organization at various events and now to assist in training Service Members and their new "Battle Buddies" to become one as a team! The significance of this cannot be emphasized enough especially when a person is entrusted with one of our great nations' highest security clearance, to make split minute decisions (some which still haunts many of us on a continuous basis), and then later "forced" to retire due to various medical conditions/injuries, and not able to work at a "decent job" due to "preexisting conditions." Such trust allows one's honor to be reestablished, the feeling of self-worth, and makes one feel like he/she has a mission!
What also made it comfortable for me, even though I am clearly not the best Christian, the Love of our Heavenly Father can be felt and Prayers are always offered at the start of each beginner's class. (Amen)!!!
As "hinted" at above, the last two years has not been easy. If I can be forthright, if it was not for K9PFP I wonder where I would be at today (possible even others). Many of us have a "dark side (some will state it was a trait taught to us by the military)" and we do not wish to "adventure down that path again." Unfortunately, "various trigger points" are still present. Even though I have not conquered "all enemies" associated to PTSD or TBI (still being diagnosed for TBI after sustaining several concussions while on active duty-"it's all PTSD related"), I am now able to venture out in public somewhat more "without being on point," made friends of a lifetime, witness families reunite/stay together, and I am learning to trust (not easily done), as well as to laugh once again. My daughters, Caroline and Viktoria, have witnessed me do various acts, which I am embarrassed of. At the same time, Caroline and Viktoria have stated they have seen improvements in my person since I have been associated with K9PFP -this alone is a Great Testimony which I am grateful for!!
I have been Blessed with a new start in life and wish to make many proud, to include myself!
Thank you for believing in us, standing up for us, your understanding, for not belittling us, not laughing at us when we jump at a "simple sound," or when we drawback in a self-defense state when startled, for granting us a safe refuge, and for providing us a true "second home and family," and for some, their only home and family!
No Catch!
Yes, for the record, Dr. Mueller was correct. K9PFP has clearly benefited me; due to various forms of generosity, sacrifices, hard work and dedication, it is still a free program to veterans (no catch involved). Without hesitation, I would recommend this program to all! Some may "only" see approximately 200 graduates' names on the wall of K9PFP, but actually, the numbers are in the thousands. Thousands …. yes, count all the service member's family members, the communities these service members reside in, some -their work areas, and the numbers are clearly in the thousands. One should not put a price of one's life; but in straight talk here, due to all the professionals involved in this wonderful organization I know lives have been saved -K9PFP has my six and I have theirs!!
On this two (2) year anniversary, Thank You for providing me, as well as Hans, a second chance in life, as well as numerous others, and those yet to come!!
Sincerley,
Paul, CW2