Service Dogs for Veterans
Uniting Service Dogs and Veterans for Independence
We offer hope and support to our honorable veterans navigating the challenges of PTSD, Traumatic Brain Injury, and Military Sexual Trauma. Our commitment shines through our comprehensive 24-week Service Dog Training Program, designed to provide these heroes with highly trained service dogs. Our unique approach involves veterans actively participating in the training process, contributing to the transformation of rescue dogs into their personalized service animals. All of this is available at zero cost, underlining our commitment to supporting veterans through the impactful bond between heroes and their Service Dogs.
Give the Gift of Independence to Veterans!
Empower veterans and rescue dogs with renewed purpose with your year-end gift!
Who We Are
K9 Partners for Patriots is a dynamic nonprofit committed to transforming the lives of veterans facing service-related challenges. We specialize in empowering these heroes through the companionship of expertly trained service dogs, offering invaluable support that goes beyond conventional measures. Our mission is to thwart the alarming number of veteran suicides, enhance mental well-being, and cultivate independence, fostering a unique blend of healing and companionship. At K9 Partners for Patriots, we don't just create bonds; we forge life-changing connections that not only restore lives but also serve as beacons of hope. Join us on this journey of transformation and inspiration.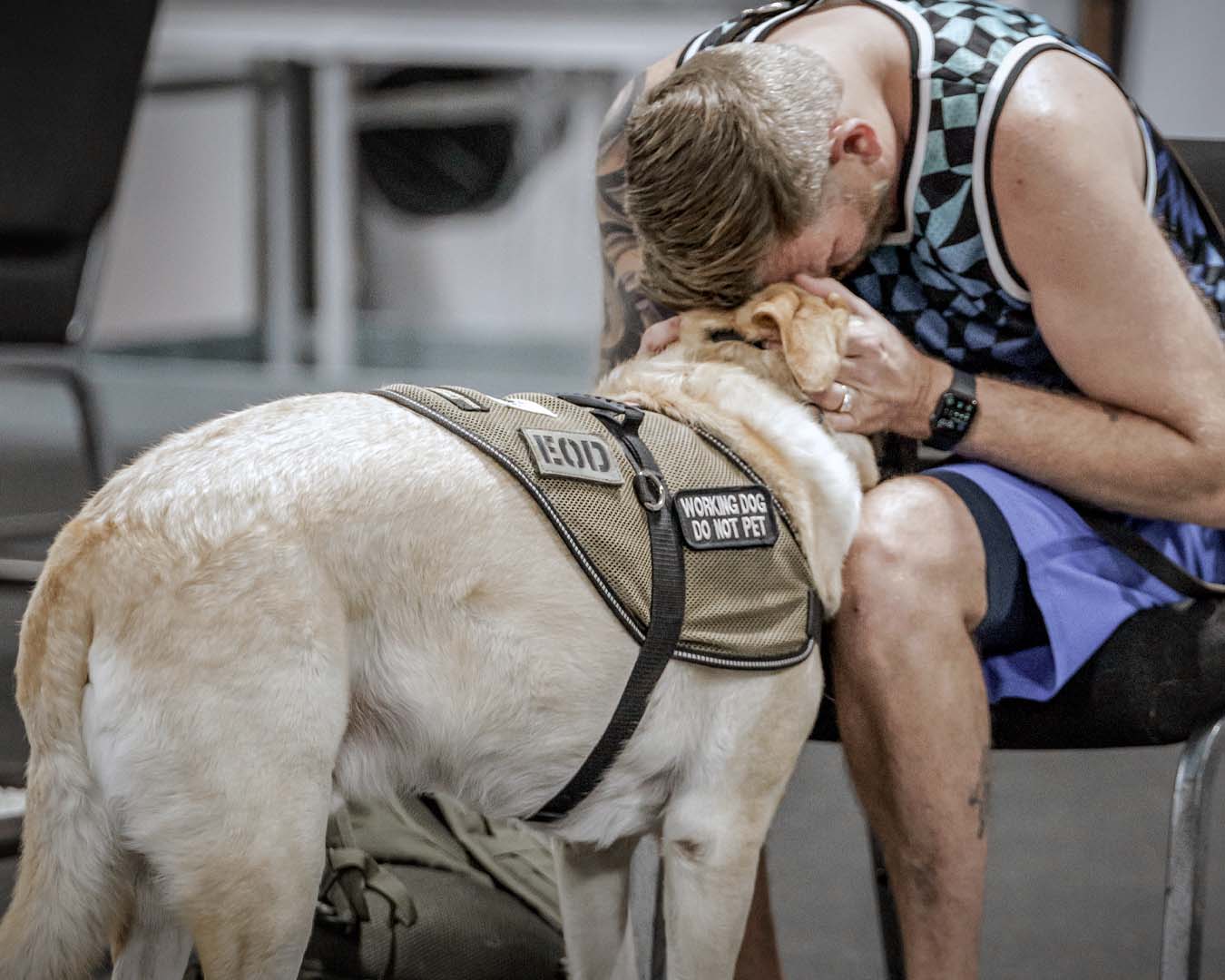 At the core of our mission lies a compelling "WHY" rooted in our commitment to combating the alarming epidemic of veteran suicides.
We passionately believe in the potent healing potential of the human-canine connection and its capacity to serve as a lifeline for those battling service-related challenges.
Our unwavering dedication is fueled by the urgent need to provide tangible solutions for veterans in crisis, recognizing the transformative impact that expertly trained service dogs can have on mental well-being. By fostering these unique bonds, we not only seek to mend the wounds of the soul but also to actively contribute to reducing the distressing number of veteran suicides. K9 Partners for Patriots stands as a beacon of hope, offering a path to healing, independence, and renewed purpose, with the firm belief that through these life-changing connections, we can make a meaningful impact in the fight against veteran suicides.
On the fringe of an airport industrial park, an unassuming gymnasium-sized structure stands as a sanctuary for warriors who have seen the harshest aspects of life on the battlefield. This is not just any structure; it's a haven where veterans and their service dogs come together to heal, support, and thrive in a unique and fierce family environment.
Specialize in Working with Veterans
K9 Partners for Patriots specializes in working with veterans who struggle specifically with PTSD (post-traumatic stress disorder), TBI (traumatic brain injury), and MST (military sexual trauma).
The Veteran Trains the Dog
Veterans enroll in our comprehensive 24-Week Service Dog Training Program. The veteran trains the dog from day one with the guidance of our certified trainers and two master trainers on staff.
Saving Two Lives at a Time
K9 Partners for Patriots focuses on matching rescue dogs with veterans based on their specific needs and training them to become service dogs, providing a second chance to these animals while also assisting veterans.
Holistic Support & In-House Counseling
K9 Partners for Patriots offers a range of holistic support services. These include counseling, peer support, and community events.
Training Tailored to PTSD and Trauma
Customized training that addresses the specific challenges faced by veterans with PTSD, TBI, and trauma-related issues.
Fiercely Family
Support beyond just providing service dogs. This could include ongoing training, mental health resources, and a strong community of fellow veterans who have also benefited from our program.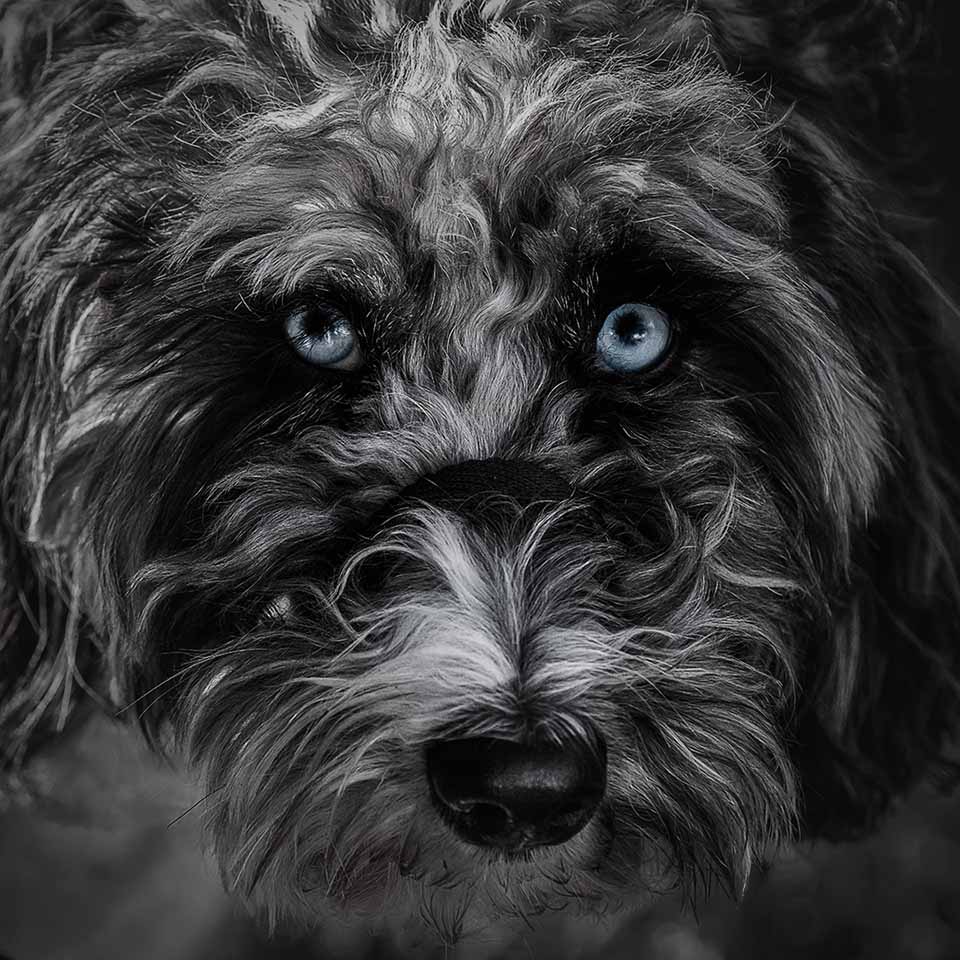 Transforming Lives Through Canine Companionship
At K9 Partners for Patriots, our impact is profound and far-reaching. By uniquely pairing rescue dogs with veterans, we forge bonds that extend beyond the limitations of words, resulting in a journey of healing, companionship, and mutual rescue. Through our transformative 24-week service dog training program, certified instructors guide veterans in shaping these rescue dogs into their personal service animals, unlocking a path to independence and emotional well-being.
Our commitment to making a meaningful difference is evident in the countless lives we've touched. K9 Partners for Patriots has emerged as a beacon of hope for veterans, providing specially trained service dogs, a significant number of which find their second chance at life from local animal shelters. Beyond the tangible impact of these canine companions, we've cultivated a resilient community founded on compassion, resilience, and a shared belief in the incredible healing Power of the Paw. Together, we're rewriting the narratives of veterans' lives, fostering positive change, and championing the transformative potential that lies within the unique connection between veterans and their service dogs.
Discover inspiring tales of courage as veterans share their transformative journeys with their service dogs. These heartwarming stories illuminate the profound impact of canine companionship, showcasing how these dedicated service animals provide solace, support, and newfound strength to those who have bravely faced the challenges of the invisible wounds of war.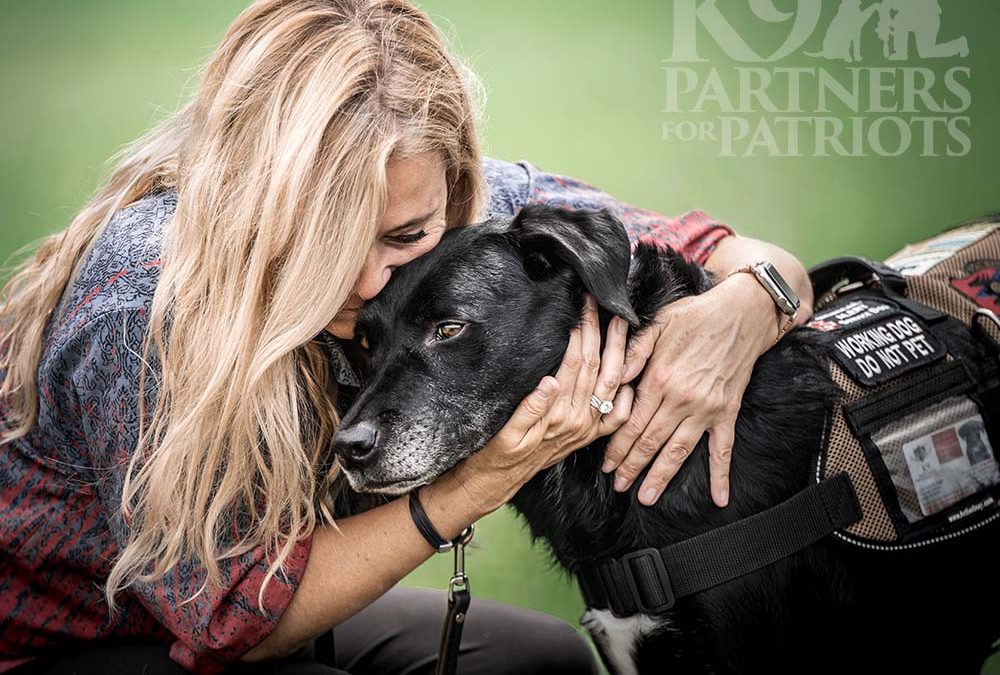 Discover the empowering story of Wendy, a U.S. Air Force Veteran, and her service dog Maverick.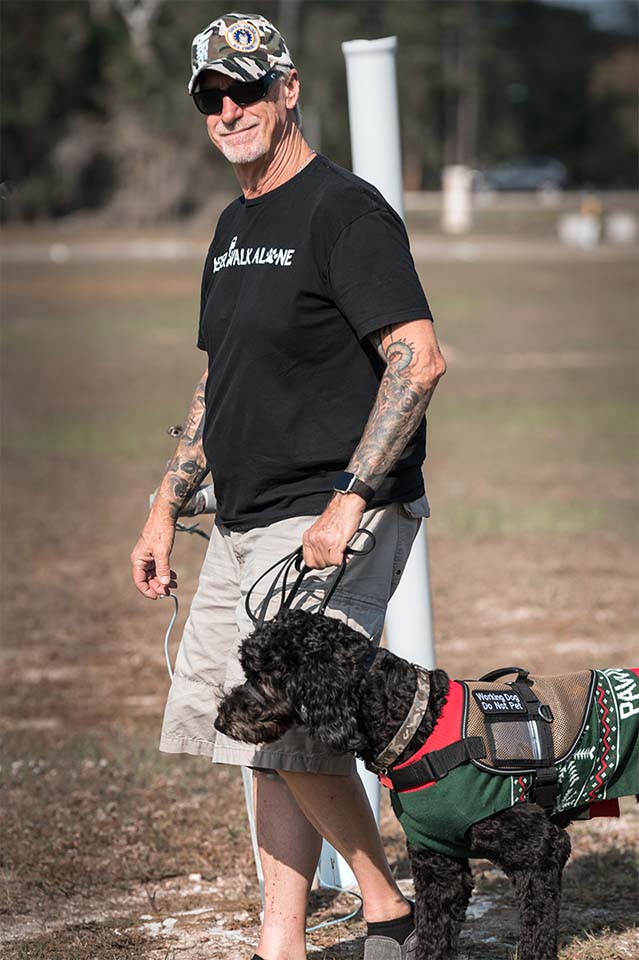 Stand with Us To Support Our Nation's Veterans
Join hands with K9 Partners for Patriots and become a beacon of hope for our veterans. Here's how you can make a difference:
Make A Donation
Your contribution directly funds the training, care, and placement of service dogs, creating life-changing transformations.
Spread Awareness
Share our mission on social media, host awareness events, and help us rally support for our veterans and their four-legged partners.
Volunteer
Become a part of our compassionate community by offering your time and skills to support our veterans and their furry companions.
Corporate Collaboration
Forge partnerships with K9 Partners for Patriots, showcasing your commitment to veterans' well-being and social responsibility while making a lasting and life-saving impact.