About Us
Never Walk Alone!
K9 Partners for Patriots is proud of our fierce family philosophy. We're devoted to providing support and encouragement long after the service dog training course is complete to ensure we're doing all that we can to end veteran suicide.
Meet Our Team
Since 2014
Fiercely Family
Veterans go to war a brotherhood
Upon returning home, they're left to fight their demons alone. K9 Partners for Patriots provides opportunities for vets to meet each other, share their stories, and process their pain while they train their own service dogs. They find trust and understanding in our non-judgmental family environment. The weekly service dog training classes and quarterly gatherings go a long way to breaking the perilous pattern of isolation that too often leads to the premature end of life.
Our group technique of service dog training
Helps the veteran integrate into a social environment that helps improve many aspects of their lives, including family and marital relationships, revitalizing old friendships, and developing new ones.
Our family of veterans, staff, and volunteers genuinely care about each other. We're dedicated to supporting and encouraging our program veterans long after they complete the service dog training course.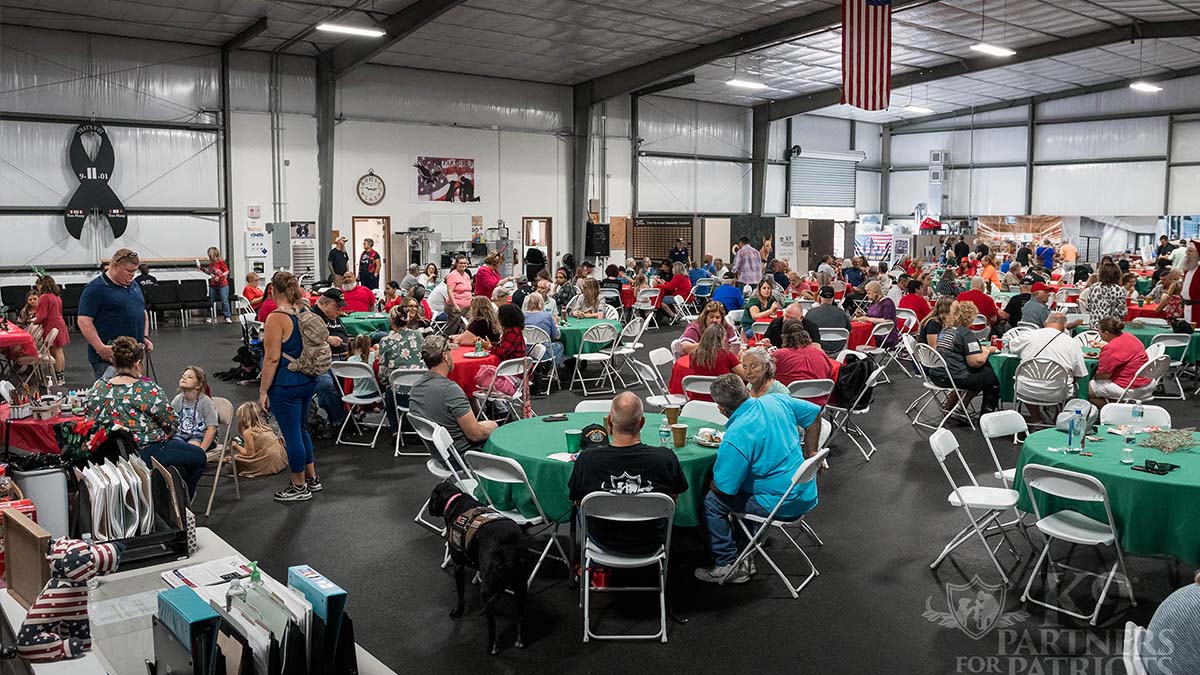 Approximately 670,000 dogs Are Euthanized Every year.
We Partner with Shelters & Rescues
If interested in partnering with us, please visit our K9 Acquisition page for more information.
Individuals who are hurting identify on a special level with dogs that have been abandoned, mistreated, or neglected.
Because of the unique requirements of the important work we do, we count it a moral imperative to get dogs out of kill shelters and rescues and into loving homes living a life of purpose with the veterans who need them.
We exist to prevent veteran suicide, to provide hope and healing for those struggling with Post-Traumatic Stress Disorder, Traumatic Brain Injury or Military Sexual Trauma. Together we provide a positive path forward through the experience of training and caring for their own service dog in a safe environment of camaraderie, friendship & family that brings veterans from self-doubt to self-confidence; from isolation to reconnection.
We envision a future where veteran suicide is rare and a grateful nation acts to ensure that veterans receive the support and respect they deserve for their service and sacrifice.
We envision a world where all animals, especially dogs are celebrated, honored, and valued for the miraculous life-saving benefits they provide to humankind.
Respect: We treat all people with dignity and respect.
Stewardship: We believe it is an obligation to be socially, financially, and environmentally responsible.
Ethics: We strive

to ensure we live up to reasonable and solidly based standards

.
Learning: Excellence is the goal. We're committed to continuously improving and applying what we learn.
Innovation: We consistently pursue improvement and embrace bold creativity and change.
K9 Partners for Patriots, Inc. was approved by the IRS as a 501(c)(3) nonprofit on November 4, 2014.
Your donation is fully tax-deductible within the guidelines of the U.S law.
Association of Service Dog Providers for Military Veterans is a coalition of non-profit service dog providers for military Veterans suffering from post-traumatic stress, traumatic brain injury and military sexual trauma working to prevent suicide and improve military Veterans' mental health.