Training Campus
Your Donation Changes Lives
It is for us to pray not for tasks equal to our powers, but for powers equal to our tasks, to go forward with a great desire forever beating at the door of our hearts as we travel toward our distant goal.
Where We Were
Where We Are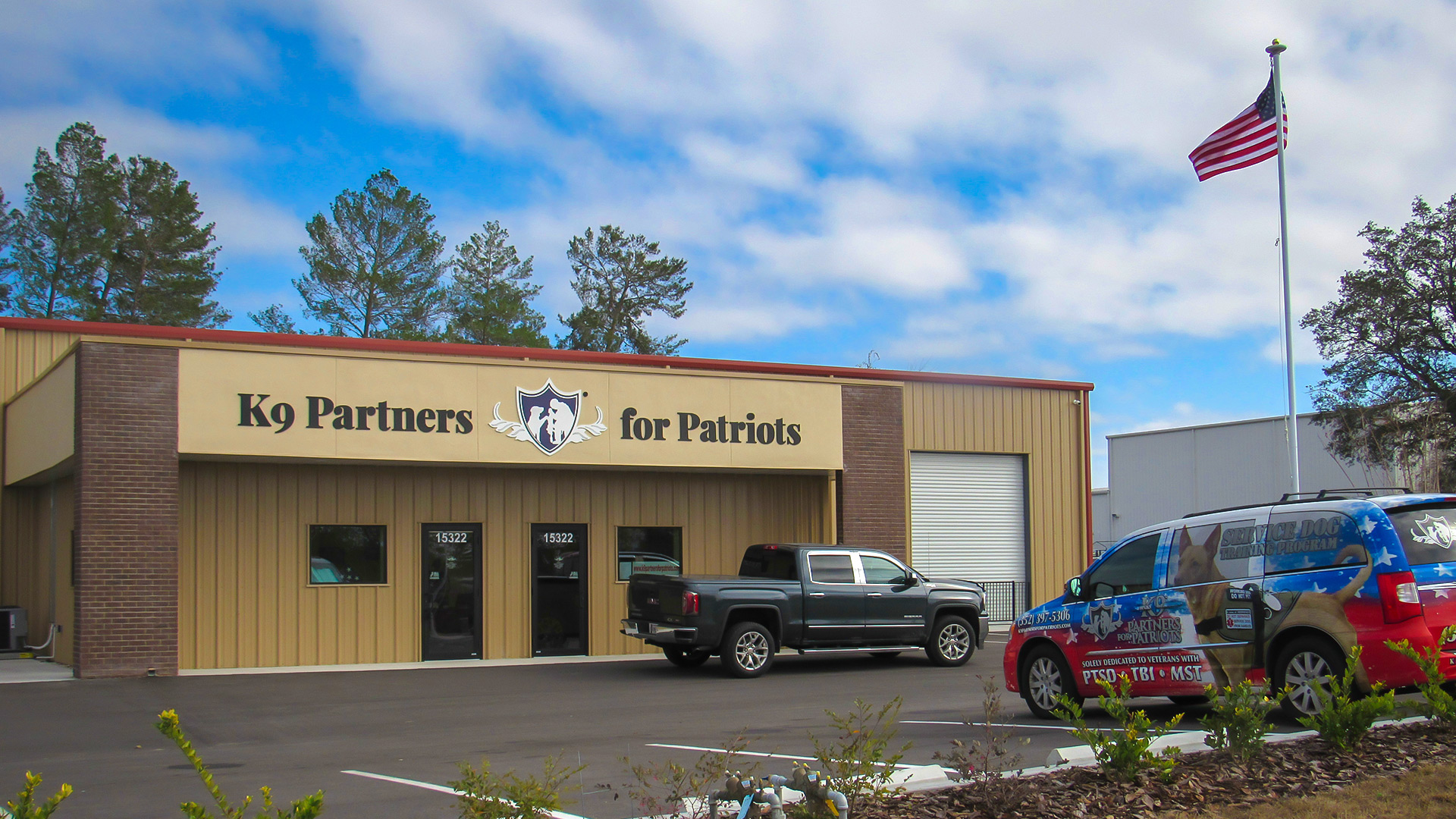 K9 Partners for Patriots, Inc. is located on the west coast of central Florida.
The indoor training facility is a brand new, state-of-the-art, 11,000 sq. ft, climate controlled building. Outdoors there are 3 separate, fenced dog runs, and a picnic area.
15322 Aviation Loop Drive | Brooksville, FL 34604
(352) 397-5306
January 2015 thru December 2017
K9 Partners for Patriots will always be deeply grateful for the good will that made moving our small group of program veterans and their service dogs from an outdoor, fenced training area into this gymnasium sized, climate controlled building a reality. As the demand for veterans in need of service dogs continues to grow, so did our need for a facility that meets our need to accommodate them well into the future. Our location at 16230 Aviation Loop served us well; we simply outgrew it.
Here's our brand new, state-of-the-art training campus located in the Brooksville-Tampa Regional Airport Industrial Complex just 1.5 miles west of our former location.
The new headquarters is divided into two main areas. There is a 1,000 sq. ft. reception area and a much larger 10,000 sq. ft. training area. This portion of the building is used for conducting classes for the veterans and their service dogs. There are other areas partioned for staff offices and private counseling for veterans. There are real-life scenario training rooms designed to resemble a pet store, restaurant and doctor's office.
These rooms prepare the veterans and their service dogs for real-life experiences in public areas. The veterans learn where their service animal should be positioned when checking out at a store, in a waiting room or enjoying a meal in a restaurant.