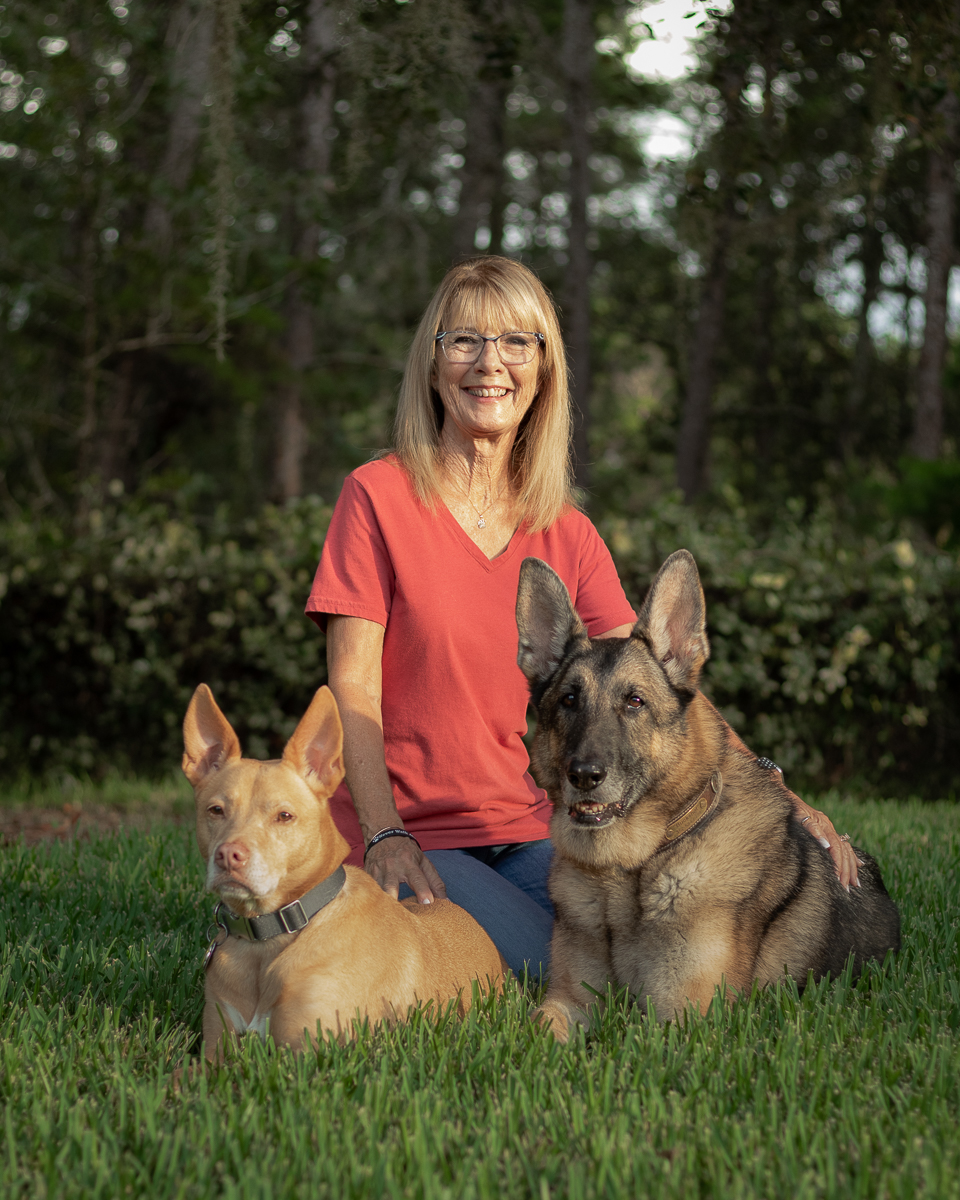 Mary Peter, CMDT
Founder & Executive Director of Training Operations
Mary Peter is a Certified Master Dog Trainer, founder, and Executive Director of Training Operations at K9 Partners for Patriots. Mary has credentials in the fields of basic and advanced obedience, personal protection, police K9, attack, tracking, retrieval, utility, and disability assistance training. She also specializes in behavior modification for the problem dog. Mary has been training dogs professionally since 1987 and has earned the respect of the public, law enforcement, and the veterinary community.
Mary began training service dogs in 1997 when asked to help two law enforcement officers injured in the line of duty with service dog training. Since that time, Mary has trained service dogs for private clients through Stillwater Dog Training, her private dog training business. Mary closed Stillwater Dog Training in 2014 when she saw so many of her veteran clients struggling with the inability to adapt to civilian life after their military service and founded K9 Partners for Patriots to offer her services to veterans with PTSD/TBI and/or MST at no cost.
Mary's expertise in K9 behavior and training is recognized nationally and the proprietary methodology she created and operates for K9 Partners for Patriots is among the most successful programs for Veteran suicide prevention nationwide.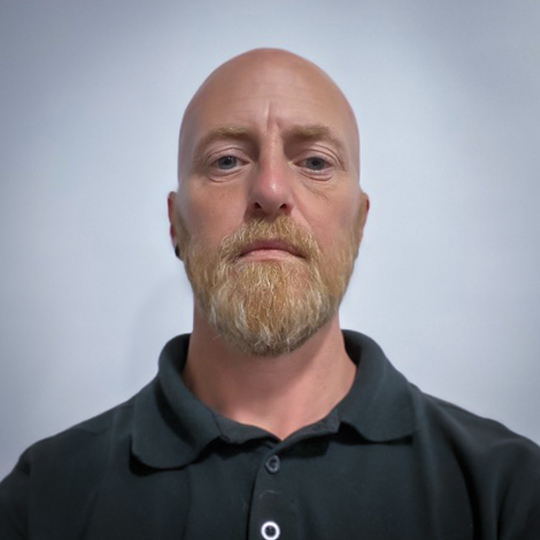 Ron Flaville
Chief Executive Officer
Ron Flaville grew up in a military family. He joined the Marine Corps right out of high school serving as a 2542: Communications Center Operator, from 1996 – 2000. During his time in the Marine Corps, he was stationed at 29 Palms, Camp Courtney (Okinawa, Japan); Camp Schwab (Okinawa, Japan); and, finally at MCAS Cherry Point, Cherry Point, NC.
Ron left the Marine Corps in 2000 and by 2001 he joined the Pennsylvania Army National Guard deploying to Iraq in 2004. Upon his return from Iraq, he left the National Guard. Two years later he enlisted in the Army. Serving on active duty, he deployed to Iraq again in 2009.
He was medically retired in 2013 and moved to Florida with his wife and children. After leaving the military, Ron began to struggle with issues stemming from PTSD. Ron and his wife, Kellie, met Mary Peter, who at that time owned and operated Stillwater Dog Training and was in the small beginnings of what would become K9 Partners for Patriots, Inc.
Under Mary's tutelage, Ron began training his German Shepherd, Sophia, to become a PTSD service dog. Ron has been working by Mary's side from the start. He has since climbed the ranks from Certified Trainer to Veteran Liaison, to Treasurer; and was appointed Chief Executive Officer for K9P4P in 2019.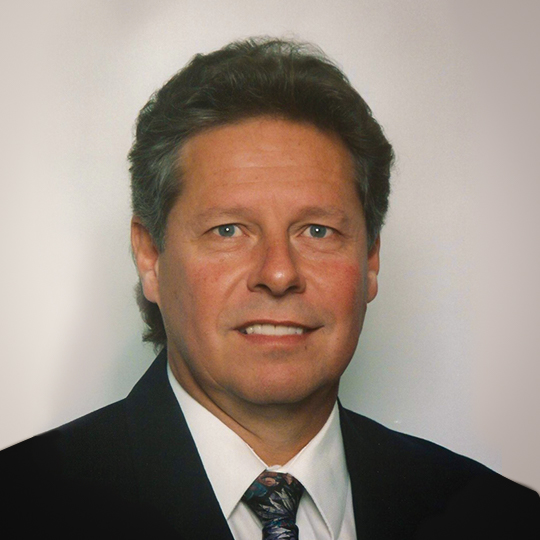 Barry Buchmiller
Chairman
Barry Buchmiller is the President/Owner of Nealynn Background Screening and Mobile Drug Testing. Its purpose is to provide accurate employee background information and drug use results to business owners when determining hiring options.
He started his career by joining the Albuquerque Police Department and served as PTLM 1/c under Chief Bob Stover. After several years on the force, he entered the business world and worked for United Parcel Service as a Customer Service Representative managing hundreds of customer accounts through New Mexico and Western Texas. After re-locating to California, Barry managed transportation offices in Colorado, Salt Lake City, and Chicago. Later he served as the Director of Distribution Services for Interim Managed Services until obtaining his California Real Estate Sales license. There he was awarded a "Masters Club" sales award in Placer County for outstanding sales volumes. Barry also managed a Centex Homes Realty branch office and 12 sales agents.
Barry relocated to Florida with his wife and went to work for the Florida Sheriffs Youth Ranch as a Cottage Parent and later a retail Thrift Store Manager. In 2014, he joined the Hernando County Chamber of Commerce and became a Diplomat where he conducted numerous community charity functions and facilitated dozens of Ribbon Cuttings for new businesses opening in Hernando County. In his home community, Barry served as President of the Preston Hollow Home Owners Association for several years.
Barry resides in Spring Hill, FL with his wife, and actively participates in various networking organizations.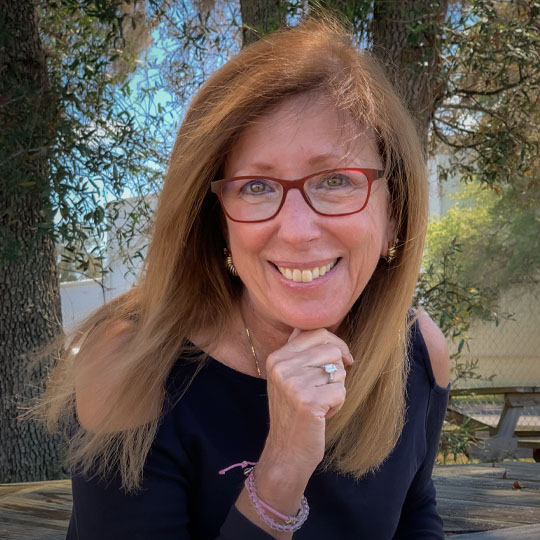 Rhonda Hicks is an Independent Contractor for Prism Technology, Inc. With over 38 years of work history with IBM, she retired in 2015. Her experience involves a variety of technical and managerial positions, including Manager of the IBM Virus CERT (Computer Emergency Response Team) that performed worldwide computer virus incident management for IBM's 350k end users and their clients. She was responsible for managing a team of Information Technology security professionals that handled all security incidents and outbreaks involving malicious software. She also managed IBM's Vulnerability Assessment Team providing leadership in people management within IBM's Managed Security Services organization where she then moved to Global Technology Services to provide business leadership and personnel management for a team of Information Security Advisors tasked with providing security expertise, guidance and managed security services oversight and industry best practices to IBM's Strategic Outsourcing customer base. She held a CRISC (Certified Risk and Information Systems Control) industry certification allowing her the ability to evaluate the risk management proficiency of IT professionals and other employees within an enterprise. 
In September 2015 she joined K9 Partners for Patriots, Inc. as a volunteer but has gone on to work for Prism Technology, Inc. in her Program Support position supporting the Wounded Warrior Service Dog Project (WWSDP) as well as other grant sources to secure nearly $5M in grant awards from various community opportunities, foundations and other entities. She currently supports K9P4P's Senior Advisor and grant PI for the WWSDP on a project basis by developing the mid-year and final reports for the U.S. Government Department of Defense. She has also developed the project and budget narratives for the annual new DOD grant opportunities for the last seven years. She is well versed in the various elements of K9P4P's program and works regularly with the organizations subject matter experts to include their accomplishments in high-level Executive Summaries as well as the detail for each area of the organization. The content she has developed is K9P4P's Intellectual Capital and is currently available for reuse by others in the organization that are pursuing potential funding opportunities. Her objective has been to highlight the incredible accomplishments of this highly effective organization by proactive collaboration and teamwork in helping to support the vision and mission of K9P4P and win the war against the veteran suicide crisis and the loss of those with PTSD/TBI and MST while saving as many dogs as possible.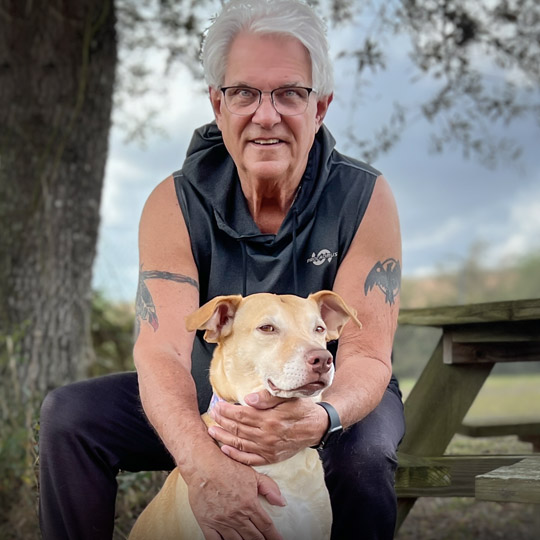 Dennis Holloway
Treasurer
Dennis W. Holloway, LT, USN, RET: Is a retired United States Navy Aviation Officer and Disabled American Veteran. He spent twenty years of military service starting in September 1970.
He went to book camp at Great Lakes, Illinois. Afterward attended Aviation Machinist Mate (Jet engine mechanic) in Millington, Tn. Upon completion, he was assigned to Helicopter Anti-submarine Squadron One (HS-1), where he was a powerplants and rotor systems mechanic. Additional duties included Test Flight Crewman, Search and Rescue Crewman, and he was qualified on 50cal door guns.
His next duty station was with Patrol and Reconnaissance Squadron Twenty-Six (VP-26). There he worked on the multi turbo propellor engines. Additional duties were second Flight Engineer and mission mechanic. Upon completion of VP-26, he was assigned to Patrol and Reconnaissance Squadron Thirty (VP-30). While in VP-30 he was promoted to the rank of Chief Petty Officer, and at the end of that tour, he was promoted under the Navy's Limited Duty Officer's (LDO) program as an Ensign Aviation Maintenance Officer.
He was assigned to Helicopter Antisubmarine Squadron Three (HS-3), where he was the Line Division Officer, Material Control Officer, and Maintenance Control Officer. He was promoted to Lieutenant before leaving the squadron. He was sent to Naval Station Mayport, Fl, to help build a new Naval Air Station. In a year and a half, the opening of NAS Mayport began. He was assigned as the Power Plants Division Officer then advanced to Production Control Officer in charge of the entire Intermediate Aircraft Maintenance facility. He later moved on to Helicopter Anti-Submarine Squadron Light Forty-Four (HSL-44) and was assigned as the Assistant Maintenance Officer of all Divisions and retired from HSL-44 in October 1990.
He went to college at New England Institute of Technology in Warwick, RI, following his Naval Career. After graduating in 1993, he worked at Miriam Hospital in Providence, RI, as a Cardiovascular Interventional Technologist. His civilian career boomed to later becoming a Supervisor, Manager, and finally a Clinical Administrative Director.
Due to medical reasons, he was forced to retire completely at age 62. Not until March 2018 did Dennis arrive at K9partnersforpatriots and was accepted into their family.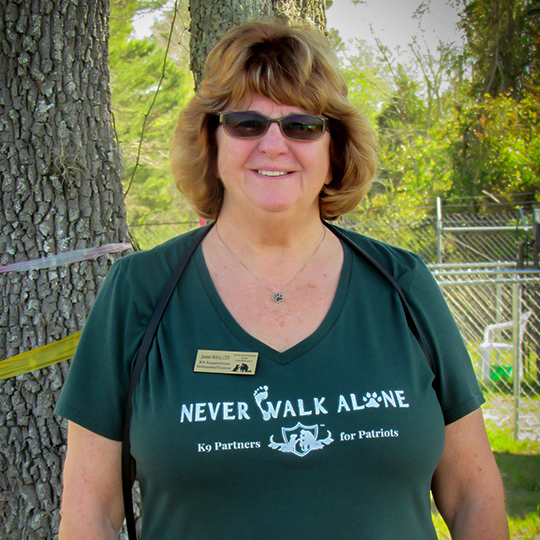 Jeanne White
K9 Acquisition Specialist
Certified Trainer / Instructor
Jeanne had an extensive career in banking; 38 years altogether, and she retired after 25 years with JP Morgan Chase. She started as a systems analyst initially and was promoted up through Mortgage Operations to Wholesale Operations Manager. Jeanne managed JP Morgan Chase's largest wholesale ops center for six years. She later served as the Operations Manager for Estate Management.
Prior to Chase, she had secured her Mortgage Broker's license served as a branch manager of a California local savings and loan; and, closing manager for Manufacturers Hanover.
Jeanne also consulted for the Veterans Administration in NC, VA, NY and FL; providing 'drive-by' appraisals.
She and her husband, Bobby, moved to Brooksville in 2005. As she explains it, they had gotten a puppy and were looking for a dog trainer. The puppy's veterinarian recommended Mary at Stillwater. After dog training, Bobby was looking for something to do. He asked Mary if he could help her… and Jeanne started volunteering there too, three days a week to help. Friendship born! Through Stillwater Dog Training, Jeanne also became a Certified Dog Trainer / Instructor.
Jeanne and her husband joined First Baptist Church of Spring Hill in 2008 and she serves there as a Trustee and Chairperson of its Stewardship Committee.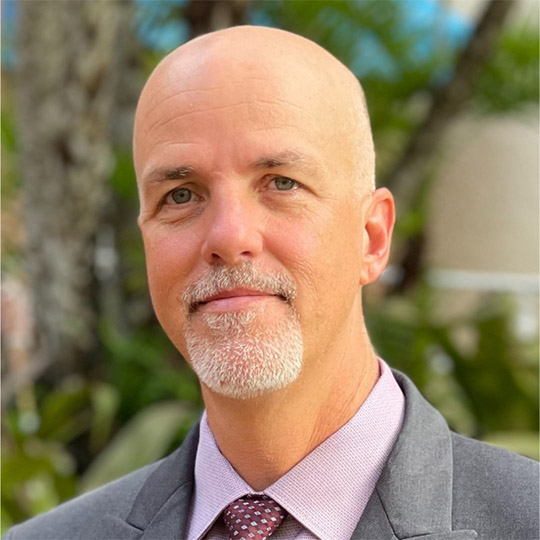 Alan Davidson
Board Member
A recognized leader in the health care industry, for two decades Alan Davidson has achieved success through innovation, operational excellence, technological integration, and strategic collaborations and partnerships.
As Chief Clinical Officer at Central Florida Behavioral Health Network, Alan oversees all clinical operations for the Suncoast 14 County Region. Clinical operations include State Hospital, Forensics, Children Mental Health, Child Welfare, Substance Abuse, and Utilization Management.
Alan has expertise in utilization management, substance abuse, and provider relations. He has extensive experience managing teams, supervising staff, and working cross-functionally (e.g., with contracts, IT, and finance) to improve efficiencies, workflows, quality, and access to care. Licensed mental health therapist.
Over the course of Alan's career, he's worked in a range of settings, including community mental health, expatriate therapist, children's group home, and insurance companies.
Alan lives in Riverview with his wife and two boxers.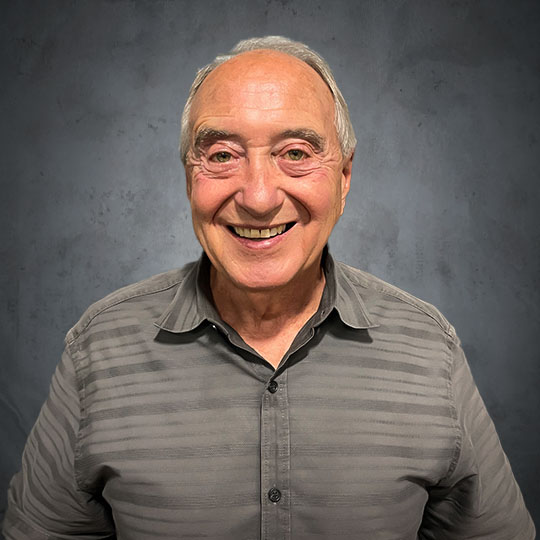 Dan is a real estate agent with nearly 30 years of experience and a previous top award winner at RE/MAX Realty in past years. He is currently a partner in his own practice, The Vision Team, in Spring Hill, Florida. Prior to his career in real estate, Dan served as the pastor of River Hills Church in Tampa, FL, a $6 million church he helped to build. He has also served on the highest international Board for the Church of God in addition to other boards and committees in various fields. His other endeavors include being an advisor to the mayor of Tampa, author of two (2) books on Ruth & Neimiah as well as a career in social work.
Dan has degrees from Southern Illinois University in psychology, government, sociology, and English in addition to Liberty College in Pastoral Studies with a Doctorate in Biblical Studies. He is also a member of the Kiwanis.