Help A Hero Virtual Dog Walk
March 20 @ 8:00 am

-

June 10 @ 11:30 pm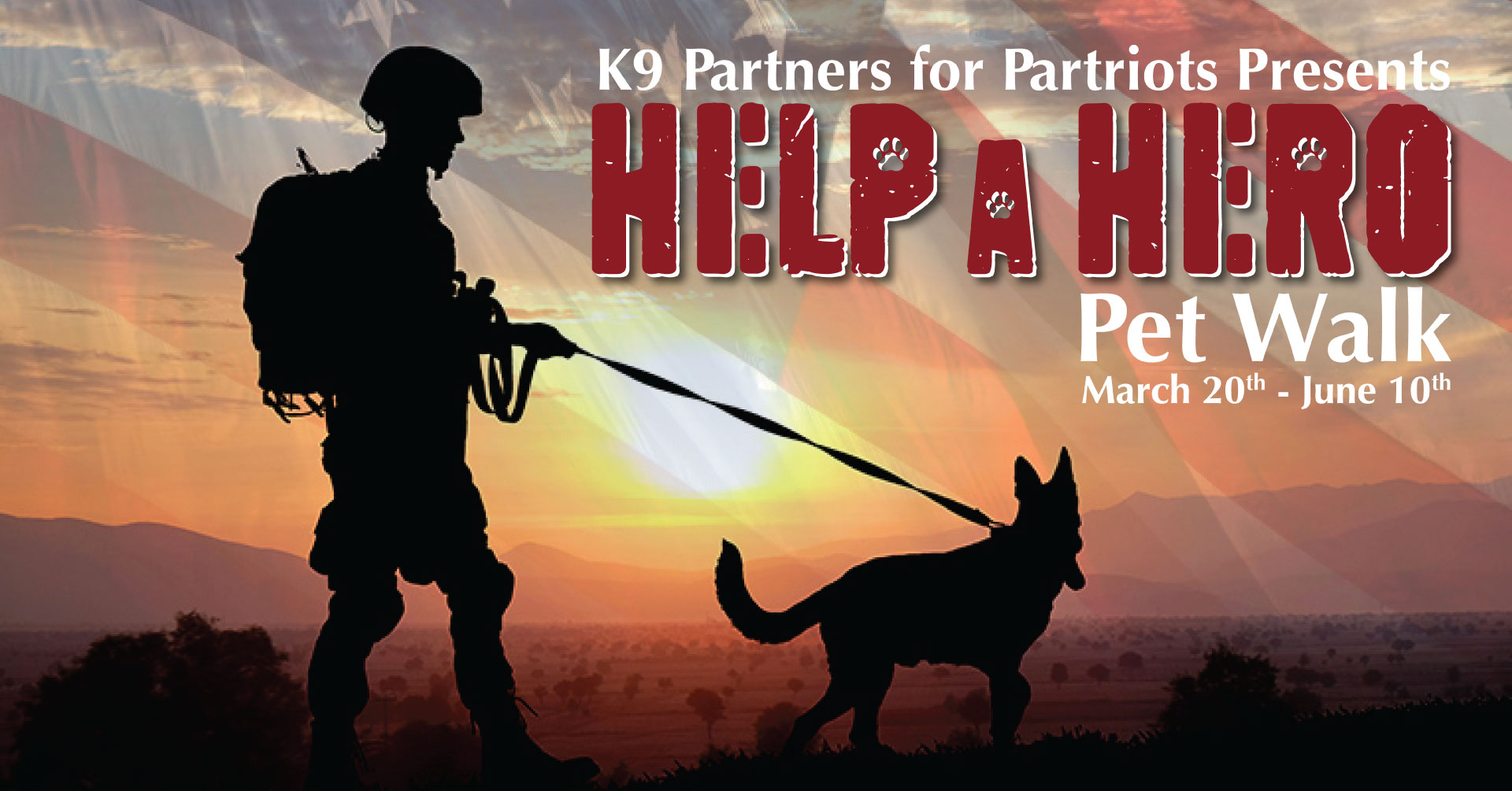 Help A Hero Virtual Dog Walk Charity Fundraiser
Help A Hero Virtual Pet Walk Fundraising Event Presented by K9 Partners for Patriots. Proceeds go to benefit K9 Partners for Patriots New Home.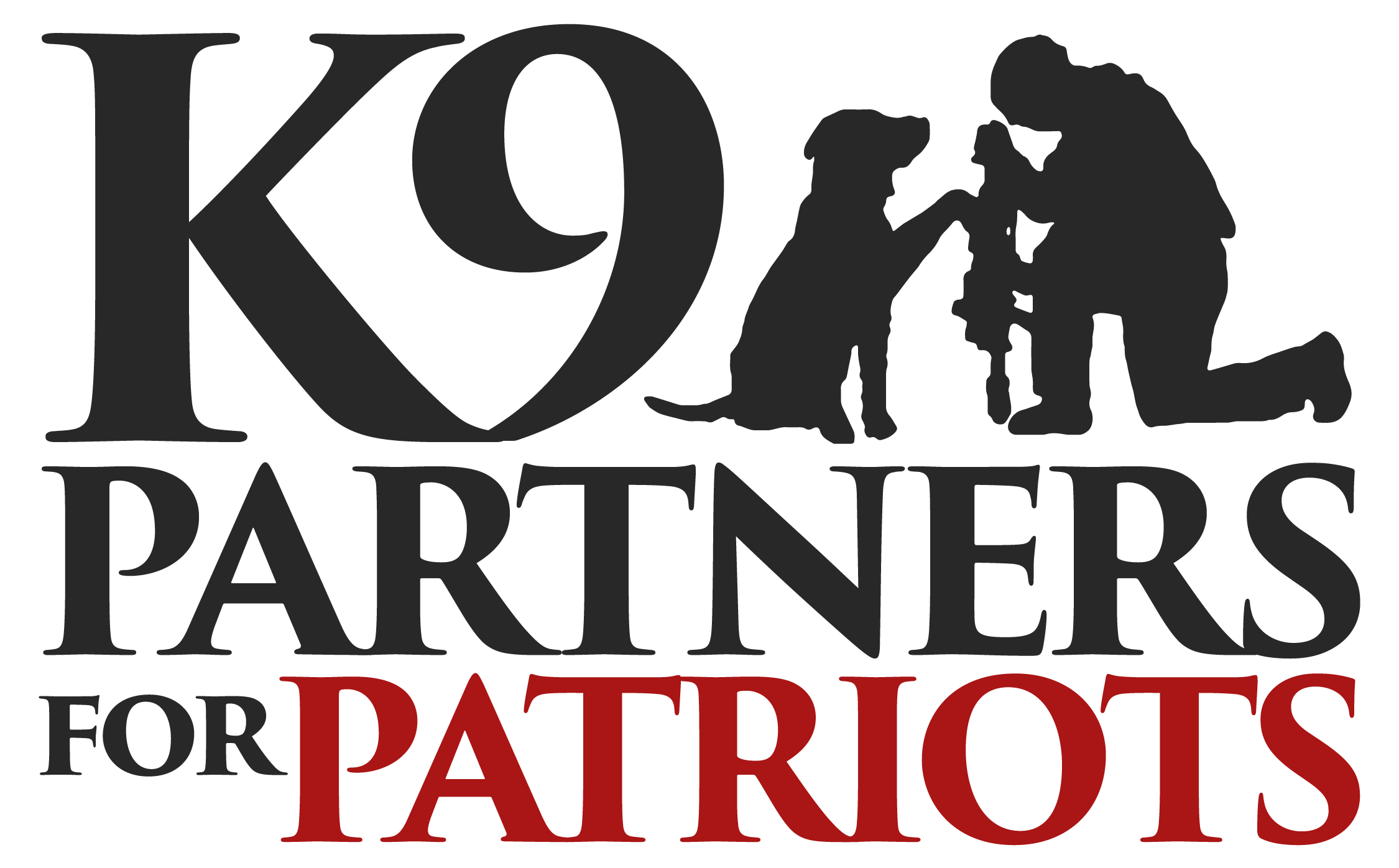 FREE Registration | GOAL: $15K
DURATION: 10 WEEKS 
The battle of PTSD rages on. Every day 22 veterans lose the fight. That's not okay with us; we know it's not OK with YOU! Veterans and rescue dogs need just 50 determined patriots to raise just $300 each to reach our goal over the next 10 weeks!
*Every individual or team raising $1,500 or more will get a brick with your name or logo installed at our NEW TRAINING CAMPUS!
Proceeds will go to the K9 Partners for Patriots Training Campus New Building Fund.
This is a Peer-to-Peer Fundraiser
You're in charge! Peer-to-peer fundraising is a fundraising strategy in which individual supporters host personal campaigns to collect donations from their friends, family, and colleagues on an organization's behalf. This approach helps our organization expand its reach to new networks of support.
When you advocate for your cause, you do more than raise money on behalf of this organization; your support increases awareness for our mission to end veteran suicide and helps us reach and serve more veterans and save more rescue dogs.
Essentially…
You're saving even more lives!
Register for FREE and create your own fundraising page. You can create a fundraising page as an INDIVIDUAL, you can JOIN A TEAM that has already started a fundraising page, or you can CREATE A TEAM fundraising page.
Set a Fundraising Goal All participants are encouraged to set a goal of at least $250.
Share your fundraising page with friends, family, and co-workers, and ask them to sponsor you. Tell them why you're raising money for your cause and why it's important to you. Don't forget to include some pictures of you and your beloved pet!
Take a walk with your pet. Snap pictures, shoot some videos of your adventures. Upload them to your fundraising page often and share them on social media. Be sure to tag K9 Partners for Patriots. Share how far you walked (we recommend a mile a day) but it's entirely up to you!
Start by making your own donation.
Ask your company If they'll match your fundraising goal or if they'll sponsor you.
Ask your gym if they'll sponsor you or see if 5 people at the gym will support you for $10.
Create Your Campaign
Personalize your campaign highlighting why you want to raise funds for K9P4P.
Spread the Word
Share your campaign on social media and in the community so others can help you save lives!
Fortify the Mission
The money you raise will directly impact the lives of veterans and rescue dogs.
Frequently Asked Questions
It's never been easier to build your own fundraising page! We've answered the questions we get asked most often. We're looking forward to seeing what you create!
Still have questions? Feel free to drop us a note through our Contact Us Form or call (352) 397-5306 and ask to speak to a member of our Creative Operations team.
Why Fundraise?
You can make a direct and significant difference in the lives of Veterans and rescue dogs. When you fundraise for K9 Partners for Patriots, you are raising crucial funds to support this life-saving resource and initiatives and spreading awareness about PTSD and veteran suicide.
There is no fundraising minimum—a gift in any amount is appreciated and goes a long way in helping homeless dogs find loving homes and a life of purpose with a veteran who desperately needs them.
What Do I Need?
CONTENT: We provide a short message that you can use, but we hope you'll personalize it with your own pictures and story. Share a personal story about a veteran or animal in your life and tell your supporters why K9 Partners for Patriots is your favorite cause.
IMAGES:  We provide a default image you can use, or you can upload one or more of your own images to personalize your fundraising page.
Do I Have To Register?
YES, you must create an account in order to build your fundraising page.
You must be at least the age of majority in the state where you reside but it doesn't mean you can't fundraise for K9 Partners for Patriots. If you are under the applicable age of majority, just ask a parent or guardian to register on your behalf.
Where Do Donations Made Through My Fundraising Page Go?
Online donations made on your fundraising page go directly to K9 Partners for Patriots. The donation amount will be shown on your page and 100% of the contributions will be counted towards your fundraising goal.